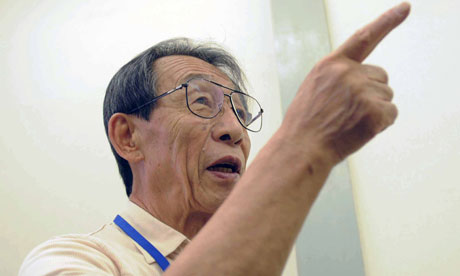 So far, about 9,000 workers have been involved in the four-month operation to stabilise the Fukushima Daiichi nuclear power plant, where three of six reactors experienced meltdown in the aftermath of the 11 March tsunami.
If Yasuteru Yamada gets his way, the Fukushima workforce of the future will include a band of fearless pensioners calling themselves the skilled veterans corps.
This month the retired engineer for Sumitomo Metal Industries, one of the world's top steel manufacturers, is expected to visit the plant with four colleagues to carry out preliminary inspections. They propose to help design a replacement for the destroyed reactor cooling system.
The 72-year-old graduate of Tokyo University will survey the damage and, pending final approval from the government and Tepco, the plant operator, call on hundreds of registered volunteers, all over 60, with expertise in a range of disciplines.
In April, he and two former colleagues reached out to 2,500 potential volunteers by phone and email. Before long their plea had been repeated on Twitter and via blogs, and for days Yamada's phone did not stop ringing.
As of last week, 430 people had volunteered, according to the group's website. Their average age is in the late 60s. The oldest is 82.
The government and Tepco have welcomed the plan with caution – they have yet to approve the hiring of hundreds of eager pensioners while conditions at the plant remain hazardous.
(read more)