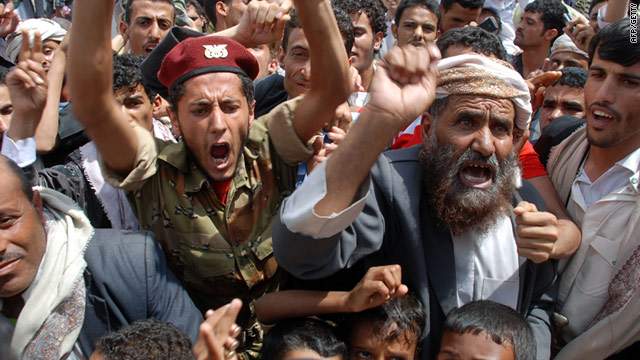 Five Yemeni civilians were killed and 18 others were injured Tuesday in government air raids just outside Sanaa, tribal leaders and eyewitnesses said.
But two government officials said those killed were tribesmen who were taking up arms against the government.
The fighting, which occurred in Arhab province just north of Sanaa, is the latest to erupt in Yemen, which has been wracked by insurgent activity and anti-government ferment.
One of the government sources, a security official in Arhab, said that clashes erupted when the government ordered the tribes to hand over wanted criminals in the district. When the tribes refused, the government responded with force.
"The tribes are harboring criminals who stand behind the attacks on soldiers," the official said.
A Defense Ministry official said slain militants "put law in their own hands and looted governmental property. They were not civilians."
Eyewitnesses said that guards raided most of the villages in the district, damaging many homes, and residents estimate that more than 240 homes have been destroyed over the last month.
"We were sleeping in our houses when governmental rockets hit our house. We did not raise arms against the government but are still being attacked," said Abdul Kareem Mubarak, a resident in Barman village.
Republican guards have been clashing with tribesmen in Arhab over the last month.
The government also claims that the tribes attempted to seize the military compounds in the district.
(read more)