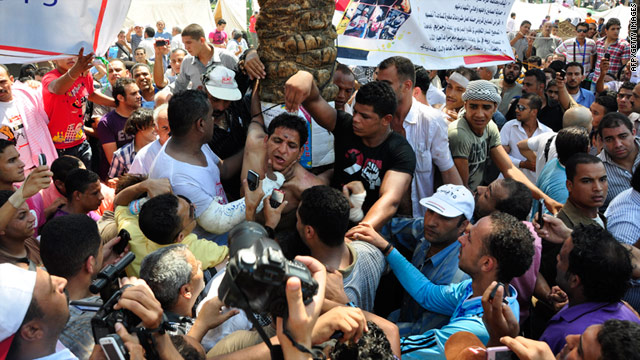 Thousands of pro-democracy protesters are making Cairo's Tahrir Square their home until all of their demands are met.
The famous and iconic roundabout, the focal point of the uprising early this year that forced the departure of Egyptian President Hosni Mubarak, is again packed with activists disgruntled by what they see as the slow pace of change.
They have set up camp in the center of the square in what has become known among them as Tent City. The show of force began after a major demonstration Friday in the square.
Many have brought TV sets, laptops, books, sleeping bags and clothes with them, suggesting they plan to stay for the long haul. One man even installed a satellite dish beside his tent, and the organizing committee has brought in dozens of fire extinguishers.
The scene remains cautiously festive as street vendors push their carts through the square selling fruits, fresh juices, popcorn, sandwiches, cold water and more to sustain the face-off against the government.
Several stages have been built, and musicians, artists and comedians have been entertaining the protesters. A barber has set up shop in the center square.
Political discussions flourish on every corner. Chants calling for the resignations of Field Marshal Hussein Tantawi, head of the Supreme Council of the Armed Forces, and Prime Minister Essam Sharaf waft across the square.
(read more)