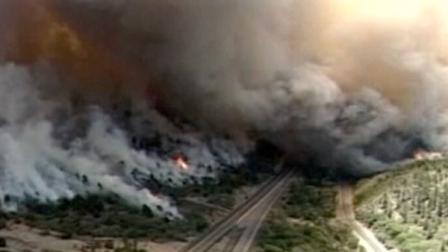 Hundreds of firefighters continue to battle a wildfire on Monday in Central California that has burned nearly eight square miles of grassland.
The fire started at the McDonald-Anticline Oil Field in Kern County on Sunday morning and quickly spread to a remote area of eastern San Luis Obispo County.
No one has been hurt, but an 1800s-era Kern County cattle branding camp was destroyed.
The fire is 20 percent contained. There is no estimate for full containment.
Some 600 firefighters from as far away as Sacramento and San Diego were on the fire lines, Kern County fire spokesman Leland Davis said. Four air tankers and five helicopters made sorties with retardant and water drops. Source