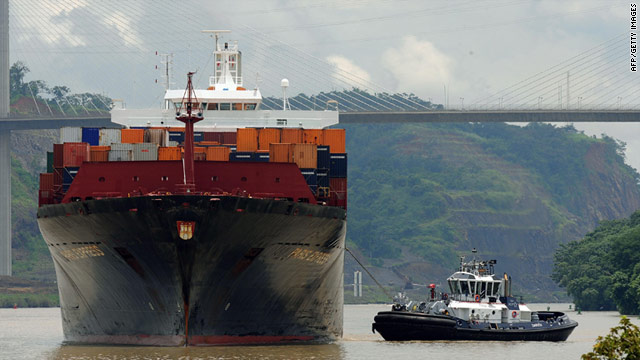 Less than two months before voters are expected to go to the polls in national elections, Turkish Prime Minister Recep Tayyip Erdogan Wednesday announced ambitious plans to dig a new canal through Istanbul that would bypass the existing Bosphorus Strait.
"Today we are rolling up our sleeves for one of the biggest projects of the century, which will outshine the Panama and Suez Canals," Erdogan said at a party conference.
The proposed Istanbul Canal would run for more than 45 kilometers, or about 28 miles, from the Black Sea through Turkey's largest city and commercial capital, to the Marmara Sea -- roughly parallel to the Bosphorus Strait, the natural body of water that already bisects Istanbul.
The Panama Canal is 77 kilometers (roughly 48 miles) in length, while the Suez Canal in Egypt is more than 190 kilometers (118 miles) long.
Erdogan said one of the goals of the proposed canal would be to reduce the huge amount of international cargo ships that regularly traverse the congested Bosphorus.
"One of the most important reasons for this project will be to reduce Bosphorus traffic and minimize threats," Erdogan said, in comments published on the prime minister's official web-site.
More than a 100 ships a day sail up and down the Bosphorus. Many of them carry dangerous cargos of crude oil and liquefied petroleum gas (LPG). The fast currents and narrow bends in the historic channel have led to several accidents on the banks of Turkey's most populous city. The deadliest incident took place in 1979, when a Romanian oil tanker exploded after colliding with another vessel, killing dozens of people and leaking tons of oil into the sea. (read more)