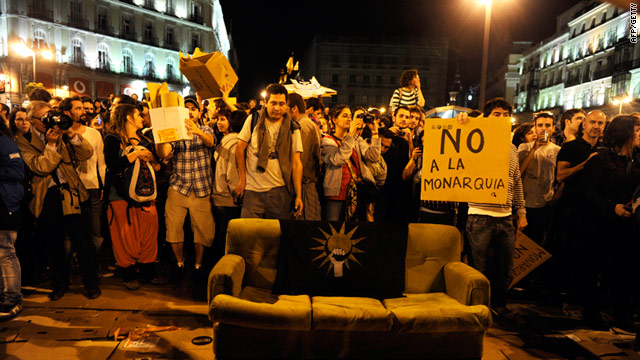 Protests against Spain's economic crisis took a new turn Wednesday as social media networks fueled calls for demonstrators to take to the streets before local elections a few days away.
Thousands returned late Tuesday to Madrid's central Puerta del Sol plaza -- where the main protests began Sunday.
A few hundred demonstrators camped out there overnight, while similar but smaller protests were held in Barcelona and other Spanish cities, a protest organizer said.
"The economy and unemployment are key to the protest because that binds all of us together," said Jon Aguirre Such, a spokesman for the Real Democracy Now, one of many groups convening the demonstrations.
"In this crisis, while some have gotten rich, most people have less income," Aguirre said.
Demostrators are protesting Spain's 21 % unemployment rate and a record 4.9 million jobless.
Protesters say a plethora of temporary labor contracts offer few or no job benefits. In addition, some are protesting against the political and financial establishment that they say is to blame. (read more)