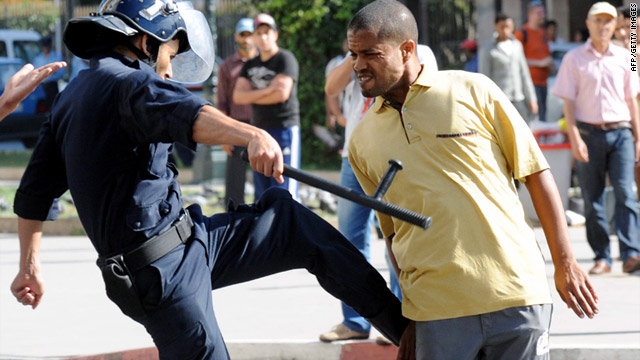 Security forces in Morocco appear to be intensifying their hard-line crackdown on demonstrators, with a second violent clash over the weekend leaving scores of youths injured.
On Sunday there were bloody battles on the streets between a youth movement and police. It was the second weekend in a row that police have beaten protesters with long truncheons.
Fevrier 20, Morocco's Facebook youth movement, staged a rally in the country's commercial capital without permission from the government Sunday -- sparking waves of police violence and in some cases panicking from individual officers, according to at least one YouTube video clip that shows an officer kicking and striking an old woman caught in the frenzy at least once with a baton.
The same clip shows a young man on the ground being beaten and kicked by officers while other colleagues on motorcycles accelerate through crowds striking protesters with long batons.
Mounaim Ouihi, one of the organizers of Sunday's protest, said 15,000 people gathered in the Sbata district of Casablanca to demand more democratic freedoms, jobs and better social conditions. He said police sealed off streets around the district to block people, swelling the numbers, then sent several 30-strong squads of truncheon-wielding officers charging into the crowd.
"There was a lot of violence, and we are now calling a halt," Ouihi said. "This protest has again sent out our message demanding freedom." (read more)