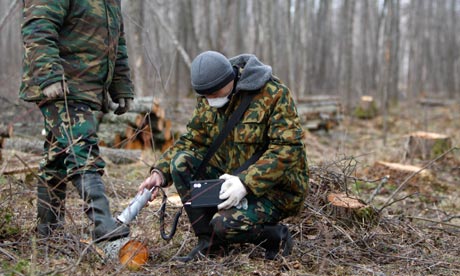 A consortium of Ukrainian and international scientists is making an urgent call for a $13.5m (£8.28m) programme to prevent potentially catastrophic wildfires inside the exclusion zone surrounding Chernobyl's ruined
nuclear power
plant.
The fear is that fires in the zone could release clouds of radioactive particles that are, at the moment, locked up in trees, held mainly in the needles and bark of Scots pines.
The consortium says an automated fire detection and monitoring system and new firefighting and forestry equipment are needed to guarantee safe management of Chernobyl's forests.
Since 1992, six years after the nuclear accident at the Ukrainian power plant which released large quantities of radioactive contamination into the atmosphere, there have been more than 1,000 wildfires inside the Chernobyl exclusion zone (CEZ), the 18-mile radius ring around the plant where access restrictions apply.
If there is a catastrophic or "crown" fire (a high-intensity wildfire affecting a large part of the CEZ) radionuclides could be dispersed over a wide area; a big fire could send radioactivity as far as Britain. (read more)