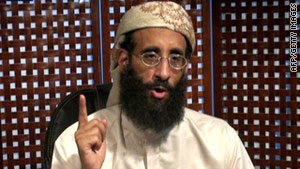 A U.S. military drone fired a missile within the last two days in Yemen aimed at the U.S.-born radical cleric Anwar al-Awlaki, but the strike did not appear to have killed him, a U.S. official told CNN on Friday.
The missile was fired at an area in southern Yemen that al-Awlaki is known to have frequented, the official said.
The targeting information was not the result of information gathered from the seizure Monday of materials from Osama bin Laden's compound in Pakistan, the official said.
A U.S. defense official confirmed that the drone was under the control of the American military -- not the CIA.
Inside al Qaeda succession: Who is likely to step up

The defense official said the strike appeared to have killed two al Qaeda operatives affiliated with al-Awlaki.
Al-Awlaki was born in New Mexico and preached at a mosque in Virginia before leaving the United States for Yemen.
Early this year, a Yemeni court sentenced al-Awlaki in absentia to 10 years in prison for charges of inciting to kill foreigners.
Prosecutors charged al-Awlaki and two others with "forming an armed gang" to target foreign officers and law enforcement in November.
Western intelligence officials believe al-Awlaki is a senior leader of al Qaeda's branch in Yemen, which claimed responsibility for the attempt to ship explosives into the United States via cargo planes late last year. Read More