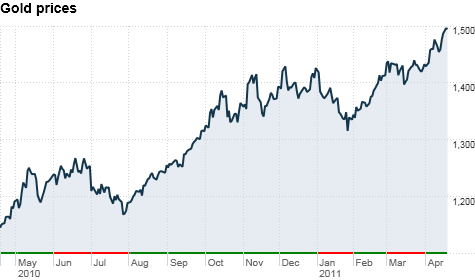 Gold prices topped a record $1,500 for the first time ever on Tuesday, shattering an important psychological barrier as investors seek out investments thought to be safe during times of upheaval.
Many investors see gold as the best place to park their money when there's economic or policital uncertainty, and there has been plenty of that to go around.
The price spike also comes against the backdrop of market uncertainty that has sent investors looking for an alternative to the weak U.S. dollar. And gold has been the marquee beneficiary.
On Monday, it was a dour outlook on U.S. debt that sent gold prices higher.
Standard & Poor's lowered its outlook for America's long-term debt to "negative" from "stable," based on uncertainty surrounding the nation's fiscal problems.
That's exactly the type of news that creates a flight to safe haven assets like gold.
Gold futures for June delivery hit an intraday record of $1,500.50 an ounce near midday, before retreating to settle at $1,495.10 an ounce -- also a new record. (read more)