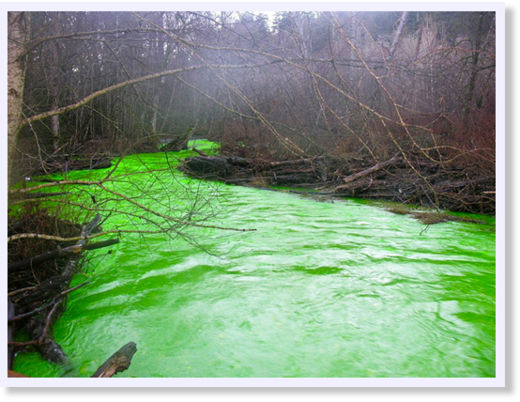 (Image: this is a picture taken of Goldstream River in January 2011)
Thousands of salmon are expected to have been killed by a large gasoline spill that poured into Goldstream River during the weekend.
A Columbia Fuels truck smashed into the rock face and rolled, damaging the cab and one of the two tanks the engine was pulling.
About 40,000 litres of gasoline are estimated to have been spilled and much of that flowed into the river at the side of the highway. The truck hit the rock wall beside a small waterfall that flows across the road to the river, and that helped move the gas.
"Gasoline is very toxic to aquatic life," said Graham Knox, the Ministry of Environment's manager of environmental emergencies.
Ministry biologists, an oiled-wildlife specialist and staff from Environment Canada were on the scene Sunday conducting an assessment of the site. There was little apparent damage at the site itself, but as they moved downstream toward the estuary, they saw "hundreds" of dead fish in the water, Knox said.
With that many visible to the eye, the number killed will be significantly higher, he said — likely in the thousands.
"It is a significant amount of fish that have been killed," he said. Read More