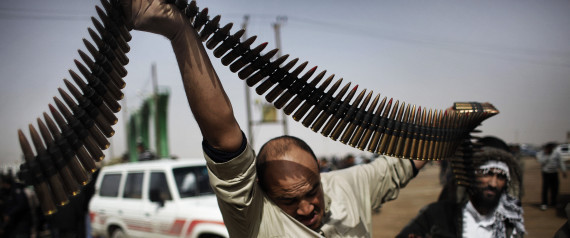 Stretched thin by two wars, the U.S. military is spending upward of $1 billion in an international assault to destroy Libyan leader Moammar Gadhafi's air defenses and save rebels from likely defeat, according to analysts and a rough calculation of the military operation so far.
Missiles fired from submarines in the Mediterranean, bombs dropped by B-2 stealth bombers and an array of warplanes launching airstrikes over the northern portion of Libya easily total hundreds of millions of dollars. The campaign entered its fifth day on Wednesday.
The Obama administration isn't talking overall cost, but the magnitude of the military campaign, the warships and aircraft deployed and the munitions used provide some information to estimate the growing price tag.
As of Tuesday, the coalition had fired at least 162 sea-launched Tomahawk missiles priced at $1 million to $1.5 million apiece and dispatched B-2 stealth bombers - round-trip from Missouri - to drop 2,000-pound bombs on Libyan sites.
Total flying time: 25 hours. Operating cost for one hour: at least $10,000.
Yet those numbers only provide part of the costs. The B-2 bombers require expensive fuel - and rely on air tankers to refuel in flight - and probably needed parts replaced upon their return to Whiteman Air Force Base. The pilots most certainly will get combat pay.
A contingent of U.S. warplanes; 11 ships steaming in the Mediterranean, including three submarines, two destroyers and two amphibious ships; and one F-15 fighter jet that crashed, costing $75 million or more - it all adds up to numbers that unnerve budget-conscious lawmakers.
(read more)