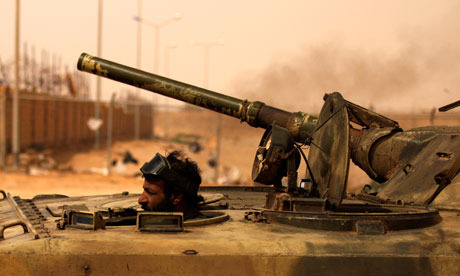 Libya
's revolutionary leadership is pressing western powers to assassinate
Muammar Gaddafi
and launch military strikes against his forces to protect rebel-held cities from the threat of bloody assault.
Mustafa Gheriani, spokesman for the revolutionary national council in its stronghold of Benghazi, said the appeal was to be made by a delegation meeting the French president, Nicolas Sarkozy, and the US secretary of state, Hillary Clinton, in Paris on Monday, as G8 foreign ministers gathered there to consider whether to back French and British calls for a no-fly zone over Libya.
"We are telling the west we want a no-fly zone, we want tactical strikes against those tanks and rockets that are being used against us and we want a strike against Gaddafi's compound," said Gheriani. "This is the message from our delegation in Europe."
Asked if that meant that the revolutionary council wanted the west to assassinate Gaddafi, Gheriani replied: "Why not? If he dies, nobody will shed a tear." (read more)