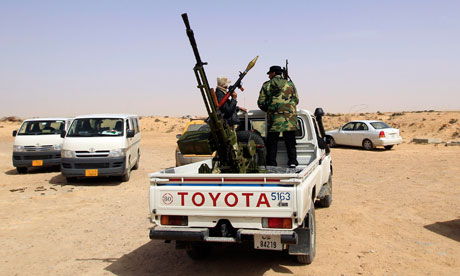 Al Qaeda is responsible for the violent uprising in Libya, but Western media has overstated the extent of the political crisis and its casualties, leader Muammar Gaddafi told FRANCE 24's Khalil Beshir in an exclusive interview on Sunday.
"There have been at most 150 to 200 people killed. People should come here and see how many people have been killed. They can come and check among the population, and among the police and the army," a seemingly collected Gaddafi explained.
Dressed in a long tunic and matching brown headscarf, Gaddafi insisted that international media reports were overlooking the broad support his government enjoys and were misleading people about the events in the country.
At times he appeared to harbour resentment for the criticism and sanction from international leaders. "Libya has very good relations with the United States, with the European Union and with African countries, and Libya plays a crucial role in regional and world peace," Gaddafi told FRANCE 24.
In characteristic fashion Gaddafi sprinkled odd comparisons in his responses. He likened the clampdown on dissidents to what he called Israel's crackdown of al Qaeda terrorists in the Gaza Strip.
"Even the Israelis in Gaza, when they moved into the Gaza strip, they moved in with tanks to fight such extremists. It's the same thing here! We have small armed groups who are fighting us. We did not use force from the outset… Armed units of the Libyan army have had to fight small armed al Qaeda bands. That is what's happened." (read more)