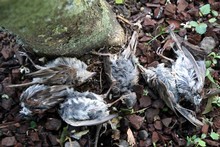 10 Feb 2011 - A Rotorua pest controller says it's unlikely hundreds of birds found dead in the city recently were poisoned with the pest control agent alphachoralose.
About 200 of the birds fell from the trees and died near Rotorua Central Mall and another 200 were found dead by the nearby skate park on Ranolf St after Auckland Anniversary Weekend.
Rotorua SPCA manager Nicola Martin said the deaths of the birds were consistent with having been poisoned with commonly used pest control agent alphachoralose.
However, Chris Brunel of Bay Pest Services Rotorua said it was unlikely as the weather was too hot. The poison, which could be laced in grain, acted on the nervous system and resulted in hypothermia.
Mr Brunel said the strength of the poison which could be purchased over the counter at farming stores would have a very slow effect on birds and it was likely there would have been reports from people seeing distressed birds, rather than dead birds.
He said if someone got hold of the full strength alphachoralose, it would work a lot quicker.

However, the only people who had access to that were registered pest control technicians and suppliers kept records of purchases.
Mr Brunel said cyanide worked a lot quicker than alphachoralose, but there would be evidence of that in the carcasses. If he had seen the birds he would have been able to tell if they had been poisoned, he said.
While some people believed it could have been the stormy weather which hit Rotorua over Auckland Anniversary weekend that killed the birds, Ms Martin said she did not think that was the case.
"We have storms all the time and nothing like that happens." Source